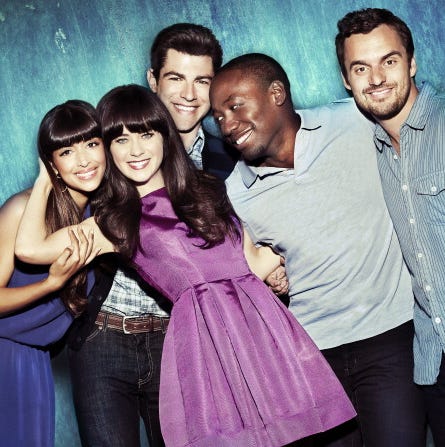 FOXGetty Images
Whether it's your first time watching or your 100th, New Girl never gets old. Even though it's been 10 years since the sitcom first aired, New Girl feels bigger than ever as more people discover it thanks to streaming. And while we don't mind doing a complete rewatch, sometimes you just want to beeline to the best parts that made you fall in love in the first place. And that's why we decided to come up with the ultimate list of New Girl episodes, featuring only the best of the best. From the introduction of True American to some of the most iconic lines ("Gave me cookie, got you cookie"), this list has it all. So get a big bucket of snacks and your fluffiest blanket, because you're not going to want to get off your couch once you start.
Here are the 50 best New Girl episodes you should watch ASAP!
Watch 'New Girl' on Netflix here
Advertisement – Continue Reading Below
Season 1, Episode 1: "Pilot"
It was the episode that started it all, as Jess (and really us, too) moved into the loft and got to know the guys. Not only does it include a beautiful moment with the group as they sang "Time Of Our Life" from Dirty Dancing, but the pilot really gave us a good starting point with these characters as they begin their wild journey together.
Season 1, Episode 5: "Cece Crashes"
We already know where this show goes in terms of its two main couples: Jess & Nick and Schmidt & Cece. But they all gotta start somewhere. Cece tells Jess that she thinks Nick is attracted to her, causing all kinds of chaos between them simply because of where his shoes are pointing. Meanwhile, after many attempts to try to sleep with Cece, Schmidt succeeds (sort of) as they share a bed together one night holding hands after he admits how lonely he is. It's one of the first cracks we see in Schmidt's douchey personality, and it's oh-so-good.
Season 1, Episode 19: "Secrets"
Listen, does this episode include one of the best storylines? Absolutely not. But it does include one of the most incredible Winston moments, which is definitely saying something. As Nick struggles with the two women he's sleeping with, Winston goes off in his Theodore K. Mullins speech, which actor Lamorne Morris noted in the Welcome to Our Show podcast was "the first time me being on that show completely 100 percent free to perform."
Season 1, Episode 20: "Normal"
"1, 2, 3, 4! JFK! FDR!"
Russell finally visits the loft, which causes a super awkward time at dinner. So what's the best way to break the tension? A game of True American. This is the first appearance of the game, which is obviously why the episode makes the "best of" list.
Season 1, Episode 24: "See Ya"
Fans definitely noticed Jess and Nick's incredible chemistry, but it's not until this episode that it's so glaringly obvious. As Nick plans to move in with Caroline, he freaks out and ends up driving his moving van to the desert with Winston and Schmidt in tow and throws his keys away. Jess and Cece come to the rescue, but Jess also throws her keys out into the desert, leaving them stranded for the night. And thus begins a long night of talking and feelings for some of these couples. It's a turning point for the show that really brings the Nick and Jess relationship to the forefront, and it's also an episode that shows the cast having a blast together as they wrap up their first season.
Season 2, Episode 3: "Fluffer"
Nick and Jess's relationship continues to take a turn as she starts to have sex with Sam but turns to Nick for basically all other relationship needs. And in true New Girl fashion, it all explodes due to a dresser and Nick and Jess have a heart-to-heart about their future together as loftmates and friends.
Season 2, Episode 5: "Models"
While it's easy to say that the Jess and Cece fight is one of the worst things we've seen in New Girl, this episode gave us some pretty iconic moments, including Jess trying be a car model and Schmidt and Nick's conversation about giving your friends cookies.
Season 2, Episode 8: "Parents"
Jess trying to pull a Parent Trap on her parents is funny enough, but when you have legends Jamie Lee Curtis and Rob Reiner coming in to play her parents, the episode becomes a standout. And then there's the scene where Nick mentions he might be falling in love with Jess's mother and trust me, we've all been there when it comes to JLC. It's just how it is.
Season 2, Episode 14: "Pepperwood"
NOW, THIS! THIS WAS A MOMENT! Oh,"Pepperwood." If you weren't in love with Nick Miller before, well, you are now. It's a clever script with so many good Jess x Nick moments and has become a big fan favorite over the years.
Season 2, Episode 16: "Table 34"
In the previous episode, Nick kissed Jess and she…kind of kissed him back. And while this might not seem like the biggest deal, she is with Sam, who is finally making an effort to be in a relationship. On top of that, Cece goes to an Indian dating event and Schmidt joins with a very interesting outfit choice that only this show can concoct.
Season 2, Episode 18: "Tinfinity"
Not only did this episode gift the best BFFs celebration idea since Galentine's Day, but it proves our theory that no one else could ever play Schmidt. From having to deliver lines like "We're celebrating Tinfinity! 10 years, 2 hearts, 1 home!" to then showing profound sadness at Cece and Shivrang's surprise engagement, Max Greenfield did it all with style and ease.
Season 2, Episode 21: "First Date"
Nick and Jess go on a date, but things quickly go south. Not only do they get repeatedly stopped for jaywalking, but they also bump into Russell, which causes some awk moments. Meanwhile, Schmidt and Winston try to stop their date with the help of Outside Dave, who has plans of his own. It's chaotic, it's fun, and it's also one giant mess we can't help but enjoy.
Season 2, Episode 25: "Elaine's Big Day"
Everyone saw this episode's name and thought, "Who the hell is Elaine?!" Well, turns out it's none other than Taylor Swift, who makes an iconic appearance at Shivrang and Cece's failed wedding. "Cotton Eyed Joe" will never sound the same again, and this episode finally gives us what we've all been waiting for: Nick and Jess officially together.
Season 3, Episode 3: "Double Date"
Whether you've seen most of this episode through TikTok clips or just from watching it over and over again, every New Girl fan should be able to quote the "You get one wife!" scene. But honestly, what makes this episode a true favorite is the moments of Winston doing the absolute most to save spots at the community table for his loftmates. It's another great bit that allows Lamorne Morris to shine, even as Schmidt's love life is going down the drain.
Season 3, Episode 6: "Keaton"
Honestly, the most impressive part of this entire episode is the fact that they manage to use Michael Keaton without actually having Michael Keaton on set. It's revealed that Schmidt emails "Keaton" when he needs advice, but really it's been his mom and later Nick all along. It's a little out there, but they fill it with so much heart that you can't help but feel for Schmidt at the end of it all.
Season 3, Episode 14: "Prince"
If you're watching New Girl via streaming, then this might be a special fun fact for you: this was actually the Super Bowl lead-out program back in 2014. It's one of the biggest honors a TV show could have, and it means more money and viewers. Not only did New Girl manage to score Prince, who was a huge fan of the show, but it actually helped him fulfill a request: for him to be the one that brings Nick and Jess together. So thank you, Prince. We owe you one.
Season 3, Episode 22: "Dance"
A huge perk of sitcoms having 20+ episodes a season is you get small hidden gems like this episode, which gave the cast a chance to have fun and do something different. Jess needs help chaperoning a school dance, and of course she asks her flatmates. It's funny, it's joyful, and it makes us wish we could've joined in ourselves.
Season 4, Episode 6: "Background Check"
If this were a ranked list, this episode would be #1. It's a fever dream in the best way possible. Not a single moment is wasted. I even took a break to rewatch this episode as I was writing this story because it's just that good. Shout out to New Girl writer Rebecca Addelman for giving us the most unhinged 21 minutes of this series. And fun fact: it's directed by Lorene Scafaria.
Season 4, Episode 7: "Goldmine"
Out of context, trying to explain this episode is difficult because it can sound a lot more problematic than it actually is. From Nick having to pretend to be gay to Winston playing the long-game to have sex with his next-door neighbors (played by Alexandra Daddario and Amber Stevens West) and even Cece's breast reduction storyline with Schmidt, it's questionable-sounding storylines do deliver and let the cast shine.
Season 4, Episode 8: "Teachers"
Sometimes it's hard to admit that Ryan seemed like a good match at first, and while he fumbled it all the end, there was strong chemistry there. Seeing a drunk Coach freak out over teaching sex ed was hilarious, and then there's the trio of Winston, Nick, and Schmidt, who decide to spend their guys' night trying to teach Schmidt how to do laundry while drinking sangria, singing Lionel Richie songs, and dealing with all their love problems. Sounds like our kind of night-in.
Season 4, Episode 9: "Thanksgiving IV"
Not naming this episode "Bangsgiving" feels like a wasted opportunity here, but we have to give some points for consistency. Tran continues to be the best guest star thanks to the late Ralph Ahn.
Season 4, Episode 11: "LAXMas"
It's a wonderful twist to a traditional holiday episode and also shows us character growth. Oh, and who would've guessed that "Goodnight Saigon! That's a sad one! Cry about that you dirty old bitch," would be on our list of best comebacks ever?
Season 4, Episode 22: "Clean Break"
The Head and The Heart's "Rivers and Roads" already made all of us emotional before this episode aired, and now it just reminds us about one of the greatest moments in the show's history. After so much back and forth, Schmidt and Cece finally have their big moment. While we still don't know if that Douchebag Jar scene was filmed specifically for this episode or if it was in the show's bank since season 1, it still remains one of the best callbacks on TV.
Season 5, Episode 1: "Big Mama P"
If your fiancé doesn't learn a complicated dance to try to impress your mother (who actually didn't even know you were engaged in the first place), then he isn't the one. Well…maybe he is. Also, bonus points to the creatives behind the scenes for the most unique way to hide Zooey Deschanel's baby bump by having Jess break all her limbs and forcing her to use an electric scooter to get around.
Season 5, Episode 4: "No Girl"
It's wild to think of New Girl without Zooey Deschanel, but they somehow find a way to make it work with laugh-out-loud guest stars like Fred Armisen and a breakout moment from Chloe Noelle as Crystal, which honestly deserved more love when it first came out.
Season 5, Episode 5: "Bob & Carol & Nick & Schmidt"
This episode isn't 100 percent great, but it gives us the start of one of the most amazing friendships on TV: Cece and Winston. We're not sure why the writers didn't think of this pairing sooner, but seeing the pair go wedding dress shopping together while getting drunk on champagne makes us wish we could join in as their third. Not like that though….
Season 5, Episode 6: "Reagan"
Justice for Megan Fox! (And justice for Jennifer's Body while we're at it.) No one can really replace Jess and, let's be honest here, with the inclusion of someone like Reagan, they really weren't trying to do that. But Megan deserves more recognition for her role. She brought a breath of fresh air to the show and really held her own. This episode also features a cameo from New Girl creator aka our queen, Elizabeth Meriwether.
Season 5, Episode 8: "The Decision"
After Reagan asks Nick and Winston to decide amongst themselves who she'll sleep with, it feels like this episode is going in one direction. But actually, it finally lights the spark in the Winston and Aly relationship. Plus, Benjamin's return is wild and gives us more of a look into all the wedding planning Cece and Schmidt have been doing.
Season 5, Episode 12: "D-Day"
Jess is back! Actually, she's been back for two episodes, but this gives us everything we want from a Zooey Deschanel performance: a karaoke version of "Genie in a Bottle," a funny camera on her head, and a great moment with Schmidt after he finds out she made out with his dad.
Season 5, Episode 15: "Jeff Day"
If you're a woman with a license, this episode is a little too real. But probably none of us have two guys who would fight for the chance to pretend to be our husband so we could buy a car at a good price. Sam is back and now is dealing with Jess and Nick's awkward scenario. It makes for some really interesting TV while Jess has the test drive of our dreams in what feels like the wildest Toyota product placement of all time.
Season 5, Episode 17: "Road Trip"
In part 1 of this wild bachelor/bachelorette special, Schmidt decides to change up his bachelor party plans after getting scared during a road rage incident. Up until now, the show has gone against traditional masculinity in subtle ways. But now it really goes against the grain (even though it includes a bar fight and some questionable transportation choices).
Season 5, Episode 18: "A Chill Day In"
You know this episode is going to be great as soon as we see Jess and Cece get high together. In part 2, it's time to see how Cece spends her bachelorette party and if you guessed that it ended with a giant party with strippers and a disco ball in the back of a truck, then you should be a psychic.
Season 5, Episode 19: "Dress"
The big wedding is getting closer and closer, and there's still one piece of the puzzle that hasn't been solved yet: the dress. Trying to hide it from Cece proves to be a big challenge, so Jess has to work on it from the men's bathroom at AssStrat, which also puts Schmidt in a tough place where he has to pick between his career and Cece. Also, Winston and Aly's relationship gets real when they finally have to tell their higher-ups what's going on between them. (Also: if you don't have a theme song for your relationship, is it even real?!)
Season 5, Episode 21: "Wedding Eve"
It wouldn't be a New Girl wedding if there wasn't some sort of chaos happening the night before. Schmidt broke the USB with his vows, so now he has to rewrite them. Meanwhile, Jess finds a ring in Sam's pocket and believes he is going to propose. This all leads to a wild game of True American that ends with a breakup and a missing groom. Ya know, totally normal.
Season 5, Episode 22: "Landing Gear"
It wasn't the wedding they planned, but it happened anyway. And yes, it made all of us cry. After seeing how upset Cece was over her mom not being at the wedding, Schmidt made one last attempt to get her there. The only problem? She actually ended up showing up on her own after hearing his hundreds of voicemails about Cece. Also, his plane is stuck and he's unable to get off which results in him missing the big ceremony and having to do the conga in the middle of a plane. But the best part is the makeshift wedding back at the loft where this love story all started. Who knew that seeing someone smash a douchebag jar would have us shedding tears? It's a beautiful moment that reminds us about all the goodness in New Girl.
Season 6, Episode 1: "House Hunt"
"Think I'm gonna buy a house and not make an egg first?" This is the kind of house-buying advice we get courtesy of New Girl. Schmidt and Cece decide it's time to move out of the loft and go house hunting, but Jess helps them a little too much as she tries to also avoid Nick and her feelings for him. But at the end of the day, the loft comes together to celebrate their friends even if things are awkward between some of them right now.
Season 6, Episode 3: "Single and Sufficient"
I'm gonna say it: I actually didn't mind Jess and Robby's relationship at the beginning. And what better way to show chemistry between two characters than a rendition of "Africa" by Toto around a campfire? But the real scene stealer is Curtis Armstrong as Principal Foster, who somehow keeps his character fresh and hilarious even after so many appearances.
Season 6, Episode 4: "Homecoming"
It's sad we don't get really get crossover episodes anymore, but this was such a smart way to bring two of Fox's biggest shows together. Jess tries to make New York City her own while going on a soup run, but somehow things become chaotic thanks to an appearance from none other than the cops of Brooklyn Nine-Nine. There's also an amazing growth moment for Schmidt while Cece makes us all laugh out loud as she tells a crowd, "I will take you to the corner of Fairfax and La Brea," and Winston immediately replies back with "those are parallel streets." We'd still pick her on our team any day.
Season 6, Episode 5: "Jaipur Aviv"
Shoutout to the writer who came up with the name "Jaipur Aviv" because it is absolutely genius. As the gang votes on whether or not to let Reagan move into the loft, Schmidt and Cece are deep into renovations on their home. Meanwhile, Winston and Nick have to decide whether or not to tell the new homeowners that their home was used in a porno. It's hilarious, unhinged, and just a lot of fun.
Season 6, Episode 8: "James Wonder"
It's a damn shame we don't get more of "James Wonder" on our screens, because it looked like Lamorne Morris was having a blast this entire episode. In honor of his amazing performance, I will be using his special naming technique to come up with my undercover name, and it looks like it is Lady Rae Jepsen. Can you guess which two singers made the cut? Bet you can't, cause I'm just that good undercover.
Season 6, Episode 13: "Cece's Boys"
Cece's modeling agency is taking off, though she's also lost clients after a bigger agency takes them away. Meanwhile, the boys decide to have a special spa day that ends with a beautiful bonding experience: waxes. Not only did it give us a chance to see Reagan and Jess hang out a little bit more, but it also gave Cece a nice professional boost, which continues on throughout the series.
Season 6, Episode 14: "The Hike"
Would I have made Jess and Robby cousins? No. But did I still enjoy Cece and Schmidt freaking out over a dinner party gone wrong because of how many unexpected guests arrived? Hell yes! Nasim Pedrad is finally back with the rest of the gang and reminds us why Aly and Winston are perfect for each other.
Season 6, Episode 16: "Operation: Bobcat"
I wouldn't want to get proposed to in a bathroom, but New Girl actually makes it kind of sweet. Winston pops the question to Aly, while Schmidt and Cece get into an awkward situation on the roof of AssStrat. Plus, Gordon Ramsey makes a special appearance!
Season 6, Episode 18: "Young Adult"
We already know that Olivia Rodrigo appeared in an episode of New Girl, which gives this episode some bonus points. But that's not the reason why it's great. It feels like the show understood why we're all obsessed with Nick. And, as a writer, the upmost vs utmost talk Jess and Nick have is one of the most realistic things I've seen on TV.
Season 6, Episode 22: "Five Stars for Beezus"
I will never forget how much I screamed watching this episode. The writers knew what they were doing here. From the big Schmidt and Cece pregnancy reveal (men, take notes!) and the use of Lorde's "Green Light" for Nick and Jess's reunion, it's just perfection from the first second and remains one of the show's biggest highlights.
Season 7, Episode 1: "About Three Years Later"
It's hard to pull off a time skip, and no one was sure if the show would come back for a seventh season, but the writers managed to pull it off. I will be stealing the feminist icons party theme, and it's nice to see Nick nervous to propose.
Season 7, Episode 3: "Lilypads"
I can't wait to vote for Ruth Bader Parikh-Schmidt in a future election. The riot she starts is an unforgettable moment in the series and the color green will forever be named Denice. Give me a Ruth spinoff in the future! I would 100 percent watch!
Season 7, Episode 4: "Where the Road Goes"
Pour one out for a real one, an icon, a purrfect companion. This is the kind of funeral the Ferguson Bishop deserved. And the fact that they got the police choir to sing a remix version of "Mad World" filled with meows before Robby takes the stage dressed as a red laser dot to do an interpretive dance just gives us a hint at the unhinged fun the writers were having during this final season.
Season 7, Episode 5: "Godparents"
"A white man?! No!" This episode not only has one of the most iconic moments in this show's history but makes us wish one of these couples could be our parents. Sure, not all our friends could make great godparents, but Nick trying to prove himself by helping Cece pick Ruth up from school and failing miserably shows the love these characters have for each other.
Season 7, Episode 7: "Engram Pattersky"
Is it the ending we expected? No. But after Nick and Jess's wild (and very divisive) wedding, we got one more fun ride in the loft. Even though the loft-mates said goodbye to the space they once called home, all because of a prank from Winston, the writers had us crying over a game of True American that gave us a clue to the character's futures.
Tamara Fuentes
Associate Entertainment Editor
Tamara Fuentes is the current Associate Entertainment Editor at Cosmopolitan, where she covers TV, movies, books, celebrities, and more.
Advertisement – Continue Reading Below