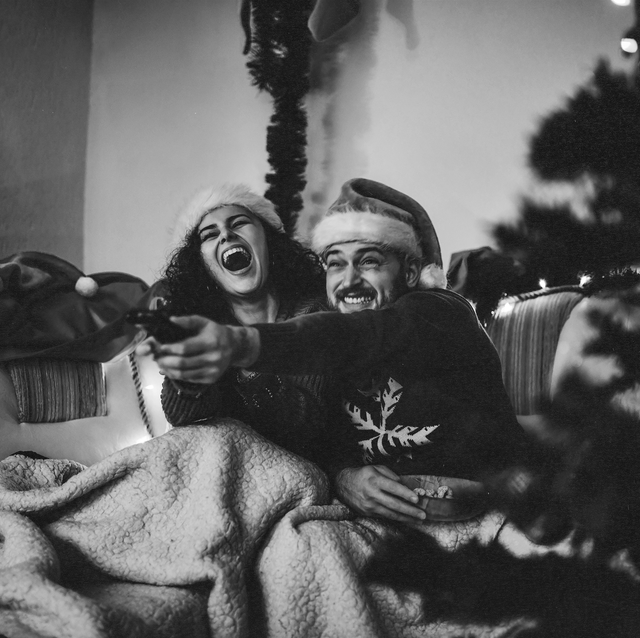 Getty Images
There really is nothing like curling up with a blanket, some popcorn, and a good movie. And honestly, once the temperatures drop, going out for a cute date is a lot less appealing. Luckily, these romantic Christmas movies are the perfect thing for a winter date night at home. We've included some of the straight-up best Christmas movies ever that just happen to have a romantic plotline, along with some that are truly all about the romance (looking at you, Hallmark Christmas movies!). Of course, we've got some new Christmas movies for ya along with the classics. So basically, there's something for everyone on this list of romantic Christmas movies.
Also, we mixed it up with movie picks from Netflix, Amazon Prime, Hulu, and other streaming services. If I were you, I'd have these movies on to put me in a festive mood while I do all my holiday shopping online. But also, wouldn't these rom-coms be the perfect thing for your next girls' night in? Anyway, whoever you watch these with, these romantic Christmas movies are sure to get you in the holiday spirit.
Break out the sugar cookies and mulled wine, and snuggle up with one of these heartwarming movies.
Advertisement – Continue Reading Below
Oh, hi, Lindsay Lohan! This movie features our December cover star as a hotel heiress who loses her memory after a skiing accident. She's rescued by a dreamy small-town lodge owner, and well, you can probably guess what happens next.
WATCH NOW
Okay, this Nancy Meyers film is the movie equivalent of a cozy sweater. Iris and Amanda agree to do a home exchange for the holidays, as they're both trying to escape romantic turmoil in their own lives. Of course, they each just happen to fall in love with a local suitor while on their getaway.
WATCH NOW
Emilia Clarke stars as Kate, a young woman working in a year-round Christmas shop and feeling a little lost in life. But when she meets a handsome man outside her shop (played by the dreamy Henry Golding), he inspires her to approach life with a little more cheer.
WATCH NOW
This sweet Christmas movie follows a group of high school seniors. When a snowstorm hits their small town on Christmas Eve, it changes several of their friendships and romantic relationships. It's basically the perfect feel-good movie to watch with your fam this season.
WATCH NOW
If this Christmas classic doesn't make you believe that "love actually is all around," then nothing will. It follows several different characters, including a recently married couple, the Prime Minister of England and his staff member, a widower and his son, and um, a surprisingly sweet couple of adult film actors.
WATCH NOW
Reese Witherspoon and Vince Vaughn play a couple trying to make it to Christmas celebrations with both sets of divorced parents, plus a bunch of siblings and kids. At least your family isn't *this* dysfunctional, right? And if they are, well, you and your person can watch this to get ready for your own holiday season.
WATCH NOW
Another entry into the "Dysfunctional Family Christmas" hall of fame, Happiest Season follows a couple, Harper and Abby, as they head to Harper's parents' house for Christmas. But things go sideways when Harper confesses that her parents don't actually know she's gay, and that Abby will have to pretend she's Harper's platonic roommate instead of her girlfriend.
WATCH NOW
This romantic Christmas movie follows Natalie, a girl from LA who falls for Tag, a guy she connects with on a dating app. But when she flies to the East Coast to surprise him for Christmas, she finds out she's been cat-fished by his best friend. To say "sorry for cat-fishing you," he offers to fix her up with the real Tag, and shenanigans ensue.
WATCH NOW
Peter convinces his friend Nick to pretend to be his boyfriend so he can enjoy the holidays without his family pestering him about his love life. But when Peter's mom sets him up on a blind date, things get significantly more complicated.
WATCH NOW
Upon learning she has a terminal neurological disorder, Georgia (played by Queen Latifah) decides to make the most of her last few weeks. She quits her job and heads on a dream vacation to a winter wonderland in the Czech Republic. I promise, it's actually much cheerier than it sounds!
WATCH NOW
This definitely counts as a "romantic" Christmas movie if you consider falling for your boyfriend's free-spirited brother over an awkward holiday weekend to be romantic!
WATCH NOW
12
A Castle for Christmas
Brooke Shields stars in this romantic film as a bestselling author who travels to Scotland to see the castle her grandfather worked at as a groundskeeper. She decides to buy it (relatable!!), but first must go toe-to-toe with the grouchy duke who owns it.
WATCH NOW
This adorable movie follows two friends who agree to be each other's platonic plus-ones for every holiday gathering for a year to avoid their family's prodding about romance. But as you can probably guess, it doesn't go exactly according to plan.
WATCH NOW
This heartwrenching movie about family, love, and loss follows Jake, a novelist going to his mother's home to settle her affairs after her death. Things get complicated when a woman named Rachel appears, claiming that her birth mother worked for Jake's parents. The two team up to try and find some answers about their respective family histories, and start to grow pretty darn close in the process.
WATCH NOW
This sweet film centers on Angelina, a pop star who is feeling burnt out when it comes to her career. She decides to pay a surprise visit to a young fan in a small New York town for Christmas, where she finds herself feeling re-invigorated by the change in scenery (and also by a hot singer-songwriter dad played by Freddie Prinze Jr.)
WATCH NOW
16
A California Christmas
A classic Christmas tale of a seemingly cold businessman who goes to convince a small-town farmer to sell her family's land to his company. He hatches a scheme to pose as a ranch hand, but it turns out to be more difficult than he anticipated once he develops feelings. Fun fact: the leads of the movie are married IRL!
WATCH NOW
Kristen Davis plays Kate, a woman traveling alone to Zambia after her husband ended their marriage. She decides to go on the trip they booked as their "second honeymoon" by herself, where she meets a handsome pilot and decides to extend her stay through Christmas. So, I have a feeling it all turns out okay for Kate.
WATCH NOW
18
The Knight Before Christmas
This Christmas romance follows Sir Cole, a 14th-century knight who's been sent to present-day Ohio by a sorceress. While there, he befriends Brooke, a kind teacher who tries to help him get back home. Is the premise a bit corny? Yes, but I have a feeling you'll like it anyway.
WATCH NOW
If you're in the mood for more of a romantic drama, this Christmas movie is for you. Therese is an aspiring photographer working at a department store when she meets Carol, an elegant socialite doing her Christmas shopping. The two quickly develop a friendship which becomes romantic — but this being the early 1950's, it's not so simple for two women to be together as a couple.
WATCH NOW
This comedy/drama follows a group of college friends reuniting over the Christmas holidays. Fifteen years have passed, but as it turns out, some things never change.
WATCH NOW
The devil works hard, but Vanessa Hudgens works harder! She plays opposite herself in this Christmas movie about a down-to-earth baker and duchess who decide to switch places. Naturally, things get complicated as they both fall in love while pretending to live the other's life.
WATCH NOW
23
The Princess Switch: Switched Again
Can't get enough Vanessa Hudgens? Check out The Princess Switch: Switched Again which finds the same characters reunited at Christmastime two years later, plus another Vanessa Hudgens! And if you still haven't gotten your fill, check out the third installment in the series, The Princess Switch 3: Romancing the Star.
WATCH NOW
This movie follows Ellen, an ambitious woman poised to take over her father's business as CEO. But before he'll hand over the reins, he asks her to prove herself by delivering a special Christmas card to his former business partner in a small town. A snowstorm strands her at the town inn, and I bet you can guess the rest.
WATCH NOW
25
Ghosts of Girlfriends Past
This is basically a re-telling of A Christmas Carol, so yeah, it's a Christmas movie in my book. Connor is our Scrooge-like character, and he's visited by three ghosts who lead him through his romantic past, present, and future.
WATCH NOW
Ryan Reynolds lives out the ultimate fantasy of returning to your hometown for Christmas and impressing everyone with how hot you are now. He reconnects with his best friend who he'd been in love with, and realizes he still has feelings for her.
WATCH NOW
This starts off with the ultimate meet-cute: Jonathan and Sara meet while Christmas shopping when they both go to grab the same pair of cashmere gloves at Bloomingdale's. They let fate take its course, and you'll just have to watch the movie to find out how that goes for them.
WATCH NOW
This modern interpretation of It's A Wonderful Life follows Jack (played by Nicholas Cage) as he gets a glimpse of what life could have been if he'd stayed with his sweet college girlfriend instead of choosing his high-powered career.
WATCH NOW
This movie follows Will, a perpetual bachelor living a pretty sweet life thanks to the royalties left to him by his musician father's hit Christmas song. But when a strange, lonely boy enters his life, he starts to open himself up.
WATCH NOW
While this is more often thought of as a fall flick, there are a few scenes that take place at Christmas, making this romantic comedy a Christmas movie, imo. It follows Sally and Harry, two acquaintances who go from frosty tolerance of one another to a real friendship, to something more over the course of several years.
WATCH NOW
31
The Christmas Contract
One Tree Hill fans, rejoice: like, half the cast appears to have reunited for this sweet Christmas film. Hilarie Burton plays Jolie, a recently-single woman who decides to bring her friend's brother Jack (Robert Buckley) home for Christmas so she won't have to face her ex-boyfriend alone. He agrees, thinking it will help him write his next novel. But of course, they both get more than they bargained for.
WATCH NOW
This film follows Clara, the restaurant manager at a ski resort. When a new celebrity chef joins as the head chef, she's initially unimpressed. But after spending lots of time together, they realize they might have more in common than they thought.
WATCH NOW
Greta Gerwig's interpretation of the classic brings together a star-studded cast. Though it's first and foremost about sisterly love, there's plenty of romance to be found. There are a few Christmas scenes in the film, including the opening scene, making it a perfect movie to watch around the holidays.
WATCH NOW
This Hallmark Christmas movie follows a couple and their two adult sons. The sons have returned home for a family tradition of going all-out on decorations and turning their home into "the Christmas house." Notably, this 2020 movie was the first Hallmark movie to feature a same-sex couple.
WATCH NOW
Journalist Amber Moore is sent to Aldovia (not a real place, just FYI) to cover a press conference given by Prince Richard, the heir who's about to take the throne. While there, Amber gets mistaken for a new tutor, and decides to play along in order to get a scoop. Of course, as she plays pretend in the palace, she and Richard start to fall for each other. It's hard to watch other people live your dream, isn't it?
WATCH NOW
In the mood for a classic this holiday? This black-and-white 1949 film revolves around a love triangle between a beautiful widow, a successful lawyer, and a sailboat-loving sweetheart. It all takes place during the Christmas season, though the climax revolves around New Year's Eve.
WATCH NOW
37
Christmas in Mississippi
You know the drill: a woman returns to her hometown to help with a town's Christmas tradition (in this case, a light show). While there, she reconnects with a former flame (her high school boyfriend) and with the help of the town's local characters, she falls in love all over again.
WATCH NOW
38
Home for Christmas Day
This romantic Hallmark movie tells the story of a young woman who develops a long-distance relationship with an active-duty soldier. Things become even more complicated because her mother disapproves of the relationship. But come Christmas, everyone comes together to settle the tension.
WATCH NOW
39
Christmas in Connecticut
This feel-good film is about a magazine writer who pretends to be a woman living an idyllic wife on her Connecticut farm with a husband and baby. When her publisher insists that she host a returning war hero for dinner at the fictitious farm, she has to scramble to turn her lie into a reality. And it all gets more complicated when the guest of honor arrives, and it's love at first sight.
WATCH NOW
In the mood for more of a dark comedy? Try this 2013 indie movie about a woman who suddenly loses her husband during the Christmas season, only to find out he'd been involved with a stripper. She goes to the strip club and strikes up a friendship with the woman, and their connection helps her as she comes to term with her loss.
WATCH NOW
Denzel Washington stars as an angel sent to guide a preacher who's struggling to lead his church as Christmas approaches. The angel starts to spend some time with the preacher's wife, played by Whitney Houston, and the couple's son. Of course, this being a Christmas movie, the resolution happens at the church's Christmas pageant.
WATCH NOW
42
A Princess for Christmas
We love any Christmas movie that involves someone falling in love with royalty! This one finds a woman named Jules who is invited by a distant relative to spend the holidays at a family castle with her niece and nephew. Of course, there just happens to be a dashing prince hanging around…
WATCH NOW
43
Nothing Like the Holidays
This heartwarming, funny movie is all about a family returning home for the holidays. Each of them are dealing with some challenges, but things really get intense when the matriarch of the family announces she's divorcing her husband — meaning this could be the last holiday they all spend together as a family.
WATCH NOW
44
The Fitzgerald Family Christmas
This quirky movie finds seven adult siblings preparing for their estranged father to return home for Christmas, after a 20-year absence. While it's more of a family drama, there's definitely some romance in there, too.
WATCH NOW
Jamie Ballard
Contributing Writer
Jamie Ballard (she/her) is a freelance writer and editor who covers news, lifestyle, and entertainment topics, including sex and relationships, TV, movies, books, health, pets, food and drinks, pop culture, shopping, and personal finance.
Advertisement – Continue Reading Below